Serious Travel Guide:When in Busan, do as I did
Galmegi's unreleased Double IPA brewed with Experiment-6 Hops.
Should hit the shelves soon
After taking a grand total of zero holidays in past two years, I decided that I had to go to Busan before I left for Nepal. I had an amazing time hoping around local breweries that last time I was there, and I knew this time would be the almost same but with small a twist; I was heading there to perform.
The blog will basically be a guide to people planning to trip to Busan and perhaps in next volume, a trip to neighboring Gyangju because why not? the city is barely 45 minute bus ride and there are definitely stuff to look around.
So let's start out with the basics eh?
How to get there:
KTX is the best way to travel in Korea
I wasn't in Seoul when I made my trip to Busan but one of the easiest way to arrive at Busan from Seoul (or any city that has the service) is by KTX train. With speeds reaching up to 300km/hr, the 450km distance shrinks down to a mere 2.5 hour ride. Foreigners can easily grab a ticket through their website [
HERE
] as their english version works quite well, unlike other korean websites. It's not cheap though, with about $50 for a one way ticket.
If however, time is not a pressing concern, you could book a bus ticket to Busan Bus Terminal through this website [
HERE
]. Just make sure you can read Korean.
Where to stay:
May House is cheap and location wise, excellent
Photo Credits [HERE]
While Airbnb could be a cheaper option to hotels, if you staying alone as I did, hostels could be quite the deal maker. The place I stayed was $15 a night with breakfast and hey, I had a decent place to sleep, clean bathroom to do my business and a nice chat with people from all over.
You might want to be careful where you live though. I recommend May House located in Kyunsung University Station as the sexy Gwangalli beach is only a few stations while staying relatively close to all attractions on offer. The hostel is a little tricky to find but if you have the internet on your phone, you should be able to pinpoint the location regardless. If not, there's always people around to ask.
In regard to booking, I have found that Agoda provides relatively cheaper prices to Booking. I have so far used Agoda to book my hostel (May House) in busan, my hotel in Gwangju and Sapporo in Japan. The website/app has been reliable and consistent with the pricing.
For live music:
Herz performing at Club Realize
Photo Credits: instagram @abhasmaskey
Club Realize @ Kyunsung University Station
I got to witness a bit of Busan's music scene at Club Realize as we were performing with the local bands. The club seems to be aligned to heavy/metal rock but we fit in quite well. The sound was decent, the stage lighting bright and the occasional smoke that they blew gave a misty, glossy look even though they blew the smoke right at my face while I was doing my thing on the stool.
For spa: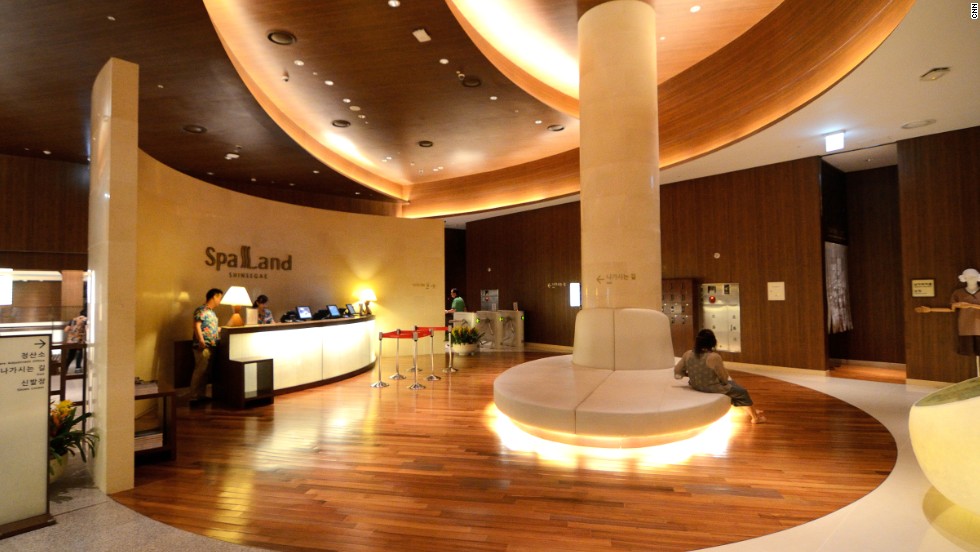 Spa Land is luxurious as hell
Photo Credits: CNN
Spa Land @ Centum City Station
Korea is known for its naked spas and while I have difficulty in getting naked and surrounding myself with stripped Korean men staring at my manhood, I had to check out, as CNN tagged it "the most outrageous spa" in Korea; Busan's Spa Land.
I made an error going on a weekend (Sunday) as both the price (was high) and time (was limited) were an issue. Plus you had too many people. Given that, I thought the facilities in the spa were pretty excellent; wide saunas, steamy-steamy rooms, massage chairs, sleeping chairs with TV, walking garden, you name it. I think it's worth walking on all the luxury the spa has to offer.
For art:
I must have been that age when I lost my grandma
Busan Museum of Art @ Busan Museum of Art Station
I personally was never into art or going to museums. I would tag them as boring and people who drew them to be even more. But this prejudice has changed over the past few years where I have actually gone to art galleries, history museums, digital, and contemporary art exhibitions and have thoroughly enjoyed the experience. Busan's Art Museum was more of unplanned, impromptu visit after the surfing plan broke down but wasn't boring at all.
For food:
쌍둥이 돼지국밥 @ Daeyeon Station
You beauty you
수육백반 @ 쌍둥이 돼지국밥
If you go to Busan, you HAVE to go here. There's no second thinking. I had the most amazing meal of my life and I am not kidding. When I am cooking a meal, I put layers and layers of flavors to make my food as complex, as complicated, as delicious as it can be regardless of what ingredients I use. Every time I have Korean food however, I am surprised at how little spices they put and yet, make it orgasmic-ally delightful. The Pork soup with fresh pork cuts I had in 쌍둥이 돼지국밥 just epitomized how food can be this simple and yet so amazing at the same time.
Never been so happy to give my money.
남천해변시장 @ Namcheon Station
Busan has some exquisite fresh fish markets to try out, most famously being the Jagalchi Market. However, this place is as touristy as it can be and during peak seasons, could find yourself unable to find a seat for your growing fish appetite.
That's where the locals come in. Having someone you know in Busan can be very useful as they can take you to places where tourists have absolutely no clue of. 남천해변시장 (Namchan Heabyan Market) is that one hidden fish market gem that I got to go to and guess what? I was the only tourist there. I highly recommend you to check out the place as the prices are reasonable and isn't as crowded.
Shinsegae Food Market @ Centum City
Your typical departmental food court but with really good options for food ranging from local delicacies, to continental, american, indian, japanese, chinese and I don't even remember what. They had it all. For me, I was more interested in what Korean food they had to offer.
I eventually settled down for TanTan noodles from TanTan Noodles Kitchen. When I asked if the food had japanese influence, the person behind the counter said that the food is Korean but has roots towards chinese than japanese. I have to say, I disagree on that notion as the broth clearly tasted like solid ramen soup, was a delight nontheless.
Hanyang Chokbal @ Nampo Station
Nengje Chokbal at Hanyan Chokbal
Busan also happens to famous for pork feet. Hanyang Chokbal has been drawing a large number of visitors since its opening and I just had to check the place out. I wouldn't necessary call the place value, but for a nice bit of afternoon, lazy lunch with your pals, the Chokbal did quite nicely.
Lotte Departmental Store Food Court @ Nampo Station
I was all for the street food at Nampo station when drizzles started becoming serious rain and had to take shelter under the Lotte Departmental Store. Have to say, wasn't disappointed what they had in store.
Street food inside the mall; Siat Hottok (씨앗호떡)
Street food inside mall 2: Amok (어묵)
Carbs to die for; Busan's OPS bakery at Lotte Departmental Store
For Beer
For all those crafty beer heads, most of the breweries/brew pubs in Busan can be found in near Gwangalli Beach. So if you just head to that area, you can sample about every beer Busan has to offer.
Location: Head to Geumnyeonsan Station, exit 3 towards the direction of the gwangalli bridge
The area is basically littered with brew pubs.
Galmegi Brewing Company
Beers to try out: Their IPA and Coffee Stout
IPA was just 3 days fresh
Really solid IPA
Wild Waves Brewing Company
Beers to try out: Their Sour
Wild Waves Brewing Company in Busan brews the best sour in Korea
Owl and Pussy Cat
Beers to try out: Their Saison. Also, has the best view to sip a beer and stare at the gwangalli bridge
There you go, I will posting one up for Gwangju soon but for now, I need to hit the showers. Incredibly hot here.